Our eyes are extremely fragile, it is important to take care of them and protect them daily. It is recommended to wear glasses from an early age in order to preserve our retina and lens.
UV rays and blue light are harmful to our eyes. Protect and bring a certain comfort to your eye with our glasses for children and adults. Our glasses will allow you to prevent any eye problems.
The sunglasses:
Extremely dangerous for our eyes, ultraviolet rays and light intensity reach our lens and damage it little by little. Regardless of age, it is important to wear sun protection. Sunglasses for women, sunglasses for men, sunglasses for babies and children... You will have the choice between a large number of category 3 and 4 solars. Our high protection lenses will effectively protect your eyes. Thanks to their flexible, light and robust frames, our sunglasses will last much more than a season.
The anti-blue light bezel:
The television, the computer, the phone or the tablet generate blue light harmful to our eyes. In order to protect them, it is essential to wear blue light protection regardless of your age. Repeated use of screens often results in symptoms of visual fatigue such as:
For the retinal area:
The appearance of cataracts.
Macular degeneration.
For the retinal area:
The appearance of cataracts.
Macular degeneration.

Our anti-blue light glasses are equipped with 7 filter layers that reduce blue light by 27%. This is the maximum to be able to keep the color spectrum intact. Our anti-blue light glasses with diopter, or without, are available in different shapes and colors. To also suit the little ones, discover our anti-blue light glasses for children 4-8 years or 8-12 years.
The magnifying glass bezel:
Ideal for people with presbyopia, the reading bezel will allow you to have a clear vision of close. Discover our range of magnifying glasses available in 6 diopters, from +1.00 to +3.50. Women's magnifying glasses, men's magnifying glasses, mixed magnifying glasses, you will necessarily find the pair that suits you. Our glasses with magnifying lenses are practical, flexible, light and robust.
The multi-distance bezel:
Our multi-distance glasses are magnifying glasses allowing you to see clearly from 30cm to 4 meters, without removing them from the nose. Flexible, light and resistant, they will accompany you for many years. Thanks to our high-performance lenses, it is possible to read and see up close, to look at the computer and to clearly see the surroundings, which is essential during a meeting for example. No more magnifying glasses on the tip of the nose! Our lenses are made of acrylic and benefit from a double anti-scratch treatment. Our models are available in several shapes, colors and diopters from +1.00 to +3.00.
How to choose your magnifying glasses?
At first, it is necessary to know its diopter. To find out more, check out our reading test here.
Then, it is essential to identify your needs. For example, if you want to use them mostly to:
DIY: it is recommended to opt for a fairly comfortable pair. For example a model that can attach around your neck like our FIDELIA model.
Read outside: Lean towards magnifying glasses with sunglasses in removable clip. This will protect you from UV and glare.
Look at the screens: we recommend that you opt for anti-blue light glasses with diopter. This will allow you to protect yourself from blue rays while reading clearly.
Go to work: we advise you to opt for multi-distances. This will allow you to see from 30 centimeters to 4 meters without having to remove them. They are very comfortable to evolve in a changing environment.
Why do you need to protect your eyes from an early age?
Sunglasses or anti-blue light are protective equipment to have. Indeed, glasses will allow you to protect your eyes and prevent any eye diseases / aging. In order to preserve your lens and retina, it is recommended to protect yourself from an early age. The eyes of children are more permeable to light than those of adults. The reasons: a wider pupil and the Iris less pigmented. It is therefore essential to protect them with suitable glasses. Deal with rays harmful to the eye with our pretty glasses.
Spectacles
Une nouvelle génération de lunettes
Les lunettes multidistances sont la nouvelle génération de loupes créée par le Docteur Geets il y a plus de 25 ans.
Avec cette nouvelle gamme, vous pourrez profiter du confort pour lire, travailler sur votre ordinateur, voir vos amis et votre famille tout en optant pour un look tendance.
Profitez d'un confort inégalé.
Votre vue ne "saute" plus au-dessus de la lunette quand vous regardez le clavier, l'écran ou autour de vous.
Portées sur le haut du nez, les lunettes multidistances vous assurent un déplacement agréable et pratique sans avoir à les enlever constamment.
Les charnières en métal sont de meilleure qualité que celles en plastique, elles apportent davantage de confort. Robustes, légères et flexibles, elles vous accompagneront de nombreuses années.
Faites votre choix en découvrant nos différentes collections permanentes
Toutes nos lunettes sont vendues avec leur étui en feutrine et livrées dans un emballage en kraft.
Horizane vous offre des lunettes multidistances pré-montées légères, souples et tendances.
Vous profitez de montures résistantes et de haute qualité qui vous accompagneront au fil des années.
Adoptez un "Look" tendance
Optez pour un look tendance avec notre large choix de lunettes multidistances.
Gardez vos lunettes correctement placées en face de vos yeux, fini le regard penché vers le bas avec les loupes sur le bout du nez !
Grâce à la nanotechnologie Horizane vous propose des verres ultra-performants. Vous pouvez lire et voir nettement jusqu'à 4 mètres. Votre cristallin ne se fatigue plus, fini les maux de tête !
Super confortable, c'est beaucoup plus agréable que les lunettes loupes classiques !
Tellement agréable à porter que j'oublie que je les ai sur le nez, je recommande.
Très belles lunettes, bonne qualité, rien à redire... Je m'en sers tous les jours, notamment pour travailler sur écran pc ... très bonne qualité des verres !
Mes lunettes de lecture ne faisaient jamais long feu tellement je leur mène la vie dure ! Après 12 mois, j'en suis toujours à user ma 1ère paire de multidistance qui reste impeccable. Agréablement surpris !
Les lunettes sont confortables, à ce prix et avec ce niveau de qualité c'est très pratique, j'ai pu laisser une paire un peu partout dans la voiture, bureau, chambre, boulot...
Produit moderne et bien fini ! Les branches sont montées sur ressort ce qui les fait durer dans le temps.
La presbytie est un phénomène naturel de vieillissement de l'œil qui touche la majorité des personnes à partir de 40 ans. Elle se traduit par une diminution de la vision de près.
Pour vous aider Horizane vous propose sa gamme de lunettes multidistances disponible en 5 dioptries de +1.00 à +3.00.
Plus besoin de garder vos lunettes au bout du nez ! Désormais il vous sera possible de voir et de lire de manière optimale de 30 centimètres à 4 mètres sans fatiguer votre cristallin.
Ce confort de vison s'obtient grâce aux verres ultra-performants multi-grossissants. Tout en gardant vos lunettes sur le haut du nez, vous pouvez voir net en lisant à 30 cm, regarder votre ordinateur à 80 cm et échanger avec vos amis autour d'une table.
Spécifications techniques
Pour la création des verres multidistances nous avons utilisé une nanotechnologie française.
Elle permet d'élargir les champs de vision de près et de vision intermédiaire avec un large choix de dioptrie :
Le bas du verre agit comme une loupe traditionnelle destinée à la vision de près : lecture, écran d'ordinateur, téléphone …
Le haut du verre offre une vision précise jusqu'à 4 mètres des sujets/objets à mi-distance : espace de travail, entourage, télévision...
Comment choisir sa lunette loupe multidistances ?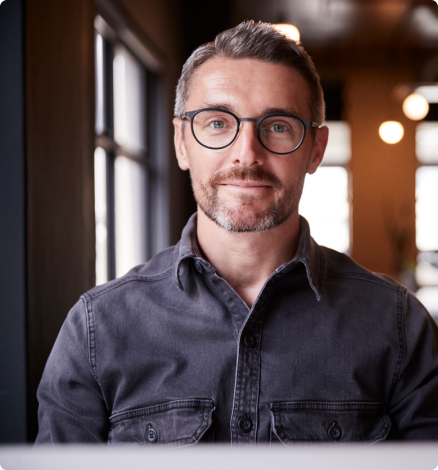 Cette gamme unique dispose d'un brevet français et répond aux normes européennes des dispositifs médicaux de classe I. Elles sont certifiées CE.
La distribution des lunettes respecte de nombreux points de contrôle qui garantissent qualité et sécurité.
Dans ces points de contrôle se trouvent :
La dioptrie réelle et l'asymétrie correcte du verre.
La qualité des revêtements des matériaux,le montage des verres dans la monture et leur bons centrages.
Les explications en vidéo :
Nos lunettes les plus achetées
Rejoignez la newsletter pour vous tenir informé des nouveautés.