Horizane
Sunglasses - AVIATOR
AVIATOR mixed model
Category 3 Filter
UV 100%
Iconic look
Box and storage case included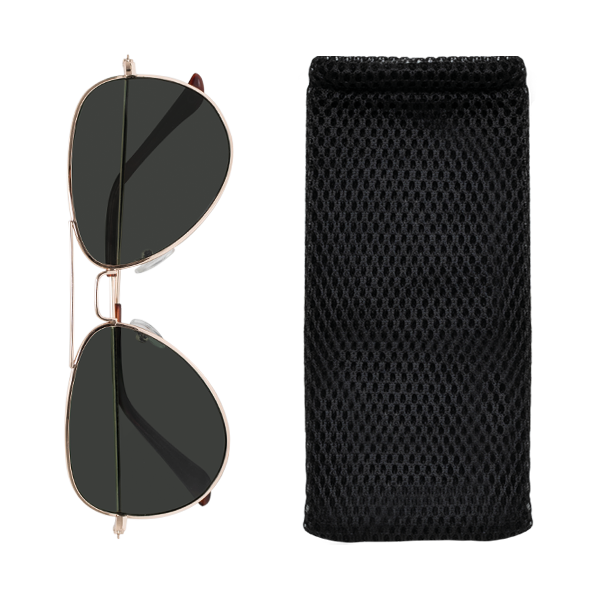 Sunglasses Horizane : ultra protective and trendy
The HORIZANE sunglasses collection is the promise of glasses studied and designed to perfect your style with taste and character. The most iconic solar mount in our collection, the AVIATOR model, is inspired by the mounts worn by US Air Force pilots in 1937. The AVIATOR are a timeless frame made of fine gold metal combining an iconic aviator look with incomparable quality, lightness and comfort. This model is suitable for both men and women thanks to its classic gold frame and slightly green tinted lenses.

All glasses in theHORIZANE solar collection are equipped with 100% UV category 3 protective smoked lenses: your eyes are effectively protected in situations of high light intensity.
HORIZANE sunglasses are designed to protect your eyes from UV rays and light intensity while giving you style and elegance. Regular maintenance is recommended to keep the lenses of your glasses flawless, whether for your magnifying glasses or your sunglasses HORIZANE. You can use our range of KITOPTIK cleaners, specially designed to clean your lenses gently.
This product complies with European Regulation (EU) 2016/425 according to ISO 12312-1/A1:2015 on sunglasses for general use. The AVIATOR frame is composed of fine metal with a shiny gold finish, the branches are of incredible finesse and resistance. Thanks to their polycarbonate manufacturing, the tinted smoked lenses of this frame are particularly resistant to shocks.

The category 3 filter of our models protects against UV up to 92% for UVA and 99% for UVB. These filters are perfect for most situations of sunshine (holidays, sea, mountains ...). They also filter from 83 to 92% of the solar luminosity. They will provide you with excellent eye sun protection against solar radiation and glare in the majority of your activities.
The lenses of our solar models also have an anti-scratch treatment that improves the resistance of the lenses to impacts.
Oval frame
Oval frame
Gold metal
Gold metal
The benefits
Mixed model
Mixed model
Timeless look
Timeless look
Unbeatable price
Unbeatable price